EXCEPTIONAL LEGACY
BUX DIAMANTAIRE BEGINNINGS
The art of making someone go head over heels in spur of the moment is a power that a diamantaire is blessed with. Even a proposal between couples now a days remains incomplete without the touch of a diamond. Here at Bux Diamantaire, we make these magical moments stand out with our exquisite diamond jewellery collections. We offer a wide range of unique styles and strive to go above and beyond with our services, by offering you the opportunity to embellish yourself with your own distinctive designs. Each and every design is created with precious, perfectly cut diamonds and the team makes the effort to to guide you to the best possible product.
Girl Power
Family Heritage
The uniqueness of Bux Diamantaire comes from a family, which empowered its women to pursue their passion for diamonds and precious gems into reality, with their hard work over the past two decades. This passion along with experience was rightfully passed down to the next generation of young women in the family who added great value to the company's work and designs. Such women empowered ventures are very hard to discover in this industry. Moreover, each team member brings their own unique and exclusive style, which benefits the company to serve different client bases. Every aspect of the business is efficiently handled by the family members; starting from sourcing the world's most valuable diamonds to maintaining the company's high standards of production and design. The team's goal is to build loyal customer bases with whom we nurture long-term relationships and rely on word of mouth advertising to spread awareness of the brand. These values drove the team to achieve greatness, create a stronghold in the industry and bring home prestigious accolades.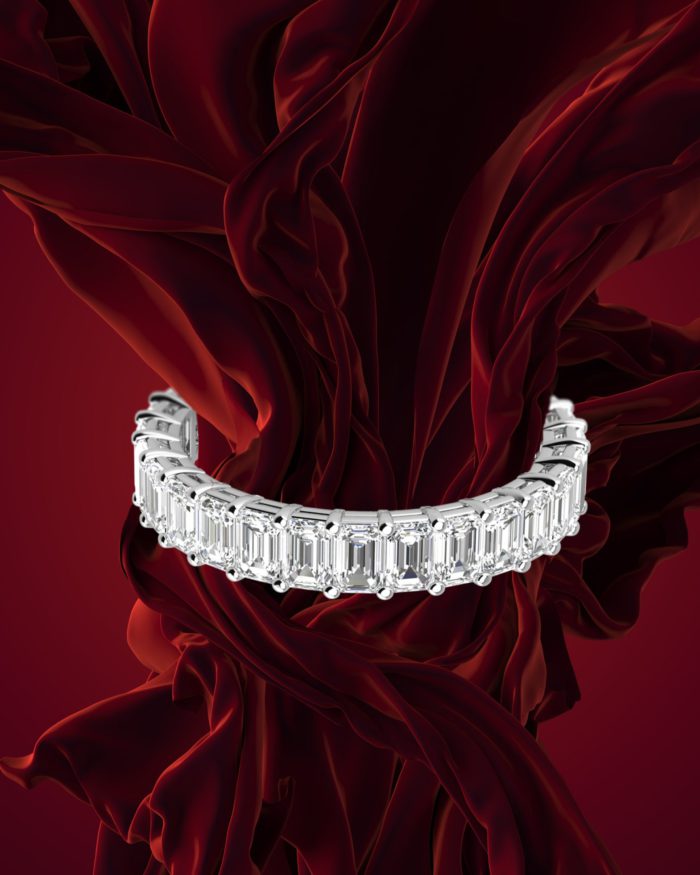 All of our crafts are designed and produced by expert teams on site in our design workshop and studio. The team works relentlessly to provide clients with regal and classic designs of bracelets, rings and necklaces which are extremely asset valued pieces to them. We offer the opportunity to build unique custom made jewellery which gets into the laps of a very few privileged clients that may pass these diamond pieces to their future generations as a legacy. Moreover, the team also works with brides to produce the jewellery of their dream wedding. The brides get to adorn their attires with precious gems for the most special day of their lives.
Bux Diamantaire values quality gems and precious of highest grade that can be sourced in order to offer clients the best ones to be found anywhere. Our different varieties of stones and gems can be observed with the scintillating cuts and extraordinary clarity that can be extended with colourless or even fancy shades. We do not want to put a unrealistic price tag to such valuable objects, hence we kept the pricing to become a straightforward matter. We assist our clients to possess certain knowledge base regarding diamonds so that the clients can choose the right diamonds when purchasing for either themselves or for someone special perhaps and understand the actual value their getting for their money. We aim to deliver the diamond pieces after examining it carefully so that the true value of the diamonds get recognized by the clients. The knowledge of our expert creators of exquisite diamond jewellery pieces and the priceless relationships built in areas of the diamond sourcing networks play an extremely crucial role in achieving Bux Diamantaires' success. Even though diamonds were initially perceived as objects to become potential investments, our experts changed the whole dynamic with their design and manufacturing abilities. The next generation of the Bux family may have entered into the world of diamonds with the similar skills, secrets and enthusiasm, but their elegant crafts proved that they brought their own flair of work.
The true enthusiasts of diamond pieces have a demand of holding one of a kind diamond jewellery that they can show off and cherish for life. It is a hobby many of these enthusiasts nurture. But there are also clients who wish to celebrate an important event with a beautiful and distinctive diamond piece. Bux Diamantaires promises to fulfill the desires of such client bases exclusively. We provide the clients the flexibility of customizing the diamond pieces according to their requirements and on that we blend our expertized opinions to create close to that the clients' visualized. The process is very easy and open. You are invited to meet with our craftsmen dedicated to you and after receiving your approval, we inform you about the financials and costs. The delivery time highly depends on how complicated and complex the design is of the finalized jewellery. Bux Diamantaire ensures that we do not replicate any of our client's customized designs so that they can have sole ownership of their unique assets.